Laying a Path: Word Study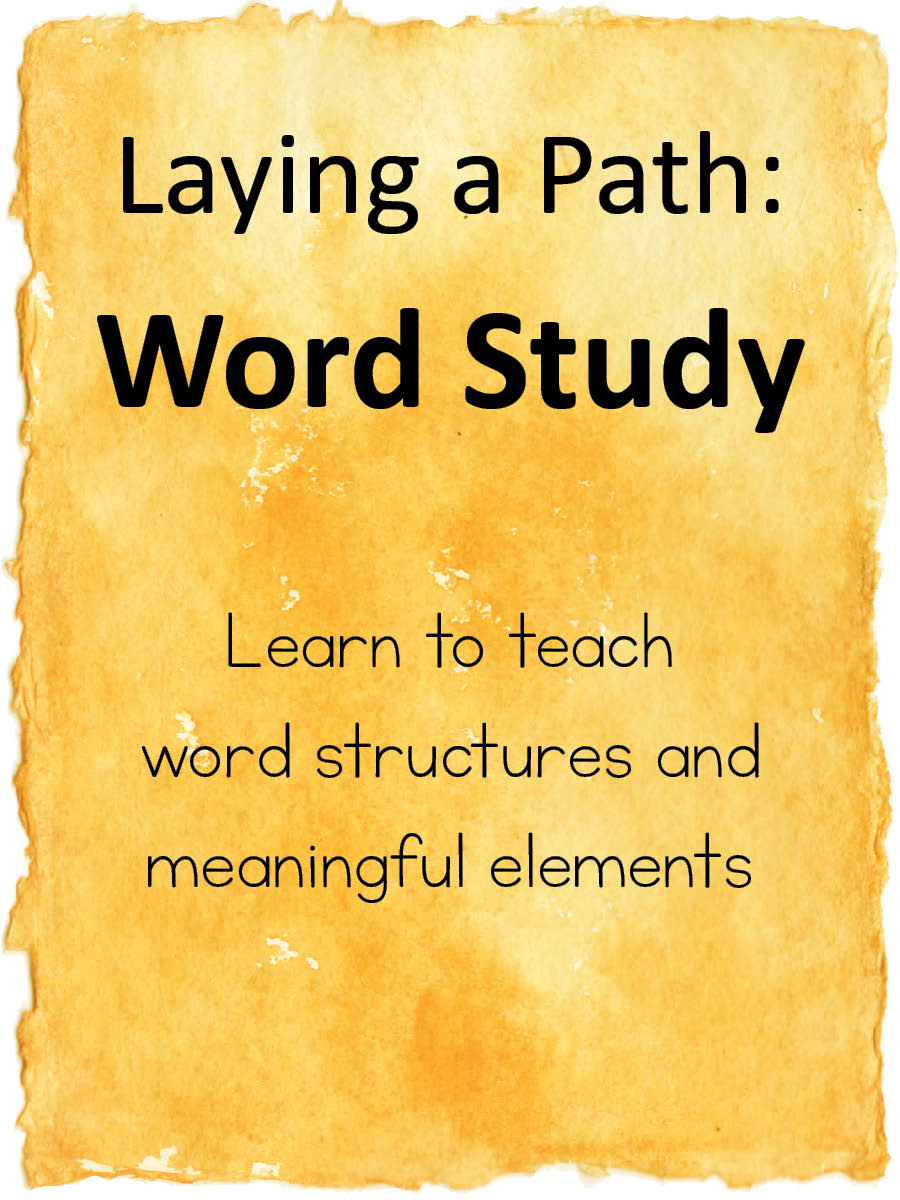 Laying a Path: Word Study
Online Educator Training
2019-20 Schedule: October 25th & November 1st, 1-4pm EST
2020-21 Schedule: TBA
The week before the class, you will receive a welcome email containing:
Zoom Webinar invitation link

15 page Instructional Plan
Learn how to teach Word Study to help your students build words using prefixes and suffixes, strengthen spelling and vocabulary skills, and unlock the mystery of English!
What are educator training classes?
All language arts studies rely on complex underlying language skills. Success in reading and writing requires explicit teaching strategies that cross these intertwined skill areas.
Our classes dive deeply into each underlying language arts skill area, equipping educators to meet individual student needs. Deep learning strategies are provided and demonstrated, helping educators know how to best teach reading and writing skills at all learning levels. We show you methods that are effective and research-based. All classes include a comprehensive Instructional Plan, which can be used by the educator as their teaching guide going forward.
Laying a Path is a series of master classes for educators, demonstrating how to teach foundational language arts skills for reading and writing growth. These practices support all learners, especially those who struggle. The series is designed to give educators a base of knowledge in each area: Phonics & Spelling, Word Study, Grammar & Mechanics, Supported Writing & Editing, and Reading Accuracy & Comprehension.
In the live class, you will have the opportunity to ask questions. Class recordings will be made available to all participants after the course, viewable for up to 12 months. You must have a Zoom account to participate in our classes. This account is free and easy to set up at www.zoom.us
"I am amazed at the amount of information I received in these classes. I learned things I never learned in my own schooling. I'm looking forward to implementing all of this knowledge into homeschooling. Thank you so much!" ~ Kendra
What will I learn?
Laying a Path: Word Study focuses on teaching educators how to teach spelling through Word Study: studying the structural elements of words—prefixes, base words,and suffixes—as well as a word's root origin and language history.
Word Study demonstrates the relationship between word structure and spelling, helping educators to incorporate this important spelling practice into their language arts programs. This class teaches educators and parents the best method for teaching spelling and building vocabulary. You will learn multi-sensory strategies to strengthen your students' awareness of how words are built, then apply this knowledge to improve spelling, word meaning, and usage. We show how we make word study relevant at every grade level and recommend resources for further study.
This class is best taken in conjunction with Laying a Path: Phonics & Spelling for a comprehensive approach to spelling. Add Laying a Path: Grammar & Mechanics for a comprehensive approach to grammar and vocabulary usage.
"Actionable ideas. I came away with ideas and materials that I could implement the very next day. I appreciate that I'm not just being fed information, but that there are plenty of useful ideas to use right away." ~ Class Participant
How does it help?
This class helps educators and students understand how words work and why spelling is not a series of inconsistencies! Most English words are built with a relatively consistent structure: prefixes + base word + suffixes. In order to become strong spellers, students must learn to recognize and apply these word-forming elements along with their phonics skills! Students will approach spelling through a scientific and constructive lens. Research supports that Word Study results in the best retention and usage of vocabulary and spelling skills!
Related Products
Alien Bugs Word Study
Word Study Curriculum
Laying a Path: Phonics & Spelling
Rats!
Welcome to the Forest
Sound Bugs